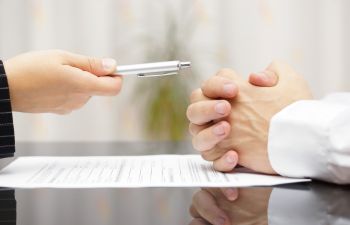 Are you purchasing a location for your business? Whether you are new to the game or not, a typical business tenant tries to negotiate with very little legal assistance, though he or she might consult with an attorney at the end when the agreement is ready to be signed. NOLO explains that while an attorney can help at a later stage by reopening important issues, it's not the most efficient way to navigate. Rather, enlisting the expertise of a lawyer early is beneficial for tenants, as a lawyer can help establish a better negotiation position. Thus, when it comes to your commercial lease agreement, the tenacious team at M. Qader A. Baig & Associates, LLC, can ensure that your time, money and future business is protected.
As mentioned, bringing in an attorney early in the process of negotiating a commercial lease agreement is advantageous to any tenant. Yet, this is especially true when contemplating a long-term lease, an expensive property or space, when complicated issues arise or when a landlord is difficult to reason with. As a spokesperson during one's negotiation, an attorney can be present during all bargaining sessions. He or she may also compose a letter of intent, or edit specific clauses and requests provided by the landlord. In the event that a space is being renovated, an attorney can make sure that one's legal interests are protected.
There's No "Standard" Commercial Lease Agreement
Among the things that tenants are told when it comes to negotiating a lease agreement, there's no "standard" commercial lease agreement. With this in mind, FindLaw lists the following provisions that should be covered in every commercial lease:
How much rent is due, including escalations
How long the lease will run, when it begins and the conditions required to renew the lease
Whether the rent includes utilities (phone, electricity, water)
Whether a tenant will be responsible for paying any of the landlord's maintenance expenses, property taxes or insurance costs
Any required deposit and if cash is required
Description of the space being rented, including amenities, square footage and parking
Detailed list of improvements promised by the landlord before a tenant moves in
Representations made to a tenant by a landlord or leasing agent regarding average utility costs, foot traffic, restrictions on whom (for instance, competitors) the landlord may rent to
Assurances that the space is zoned appropriately
Whether one can sub-lease or assign the lease to another
How the lease can be terminated, and if so, what are the consequences?
When it comes to the legal nuances of a commercial lease agreement, M. Qader A. Baig & Associates, LLC, can help determine if the proposed agreement is in your best interests. To speak to a qualified and experienced commercial lease negotiation attorney in Conyers or a surrounding area, call today!