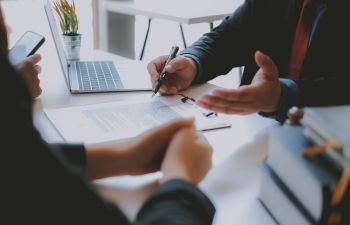 Understanding the legal landscape you are navigating is critical when negotiating financial contracts. In Atlanta, thriving industries create unique pitfalls for business owners. Robust protections are necessary to protect the interests of all parties involved.
Inadequate Understanding of Legal Framework
Inadequate understanding of legal frameworks can leave you at a disadvantage. When you create a financial contract you are entering a legally binding agreement. There are potential local laws in Atlanta that will impact financial transactions. Additionally, some contractual obligations are unenforceable or raise legal questions.
The wording in financial contracts should be clear and concise. Ambiguity and vagueness can create disputes. All conditions, terms and obligations should be explicitly stated to avoid issues. Any room for interpretation can cause one or more parties to challenge or exploit the contract.
Incorporating relevant laws and regulations in an Atlanta financial contract is essential. Potential legal challenges can arise if the contract is not compliant with state or federal laws. Up-to-date knowledge of applicable regulations is crucial when creating a financial contract.
Resolving Disputes
Dispute resolution mechanisms are needed to address any primary arguments. Ideally, invested parties want to avoid taking a dispute to court. Litigation is often lengthy and costly. When provisions for resolving conflicts are included in the financial contract, many of these issues are avoidable.
Mediation, arbitration and other dispute resolution approaches can create solutions for resolving disputes. Invested parties are able to challenge aspects of the financial contract without going to court. These mechanisms are crucial in allowing each party to seek a resolution in a fair and equitable fashion.
Neglecting Due Diligence
Due diligence of all parties involved is another consideration when creating a financial contract. Some issues to consider include financial stability, reputation and legal standing. It is possible to perform background checks and review financial statements in some circumstances. You can also seek references to ensure you are dealing with reputable individuals.
If you are concerned about a financial contract, reach out to M. Qader A. Baig & Associates, LLC in Atlanta. Contact our offices today for a consultation.