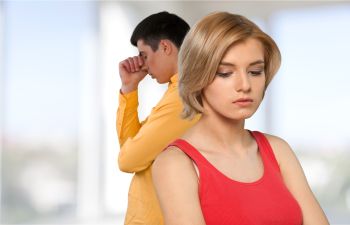 When it comes to beginning the divorce process, it's easy for couples to become tangled up in the division of property, debt, children, and spousal support. Yet, even when both parties seem to be in agreement, divorce is an emotional and sensitive process.
Typically, the divorce process begins with one spouse filing a petition (even if both agree that they want a divorce). The petition is submitted to a court, and will include information about the reason (grounds) for the divorce. Chances are, you've heard the phrase "irreconcilable differences." This is an example of a no-fault ground for divorce, and most all jurisdictions allow this type of option.
In the case where one spouse is dependent upon the other for financial support, the dependent spouse will need to ask the court for a temporary order for support. If the dependent spouse will also have custody of the children, a temporary custody order must also be obtained. The "temporary" orders will remain in place until the official court date.
While the person filing for divorce is responsible for obtaining temporary orders for support and custody, this same party is responsible for providing the court with a document, proving that the divorce petition was given to the other spouse. Next, the spouse receiving the petition must file a "response" to the petition. In this response, the spouse may dispute the grounds for divorce or any other issue.
Questions related to custody, visitation, division of property, and spousal support are often addressed in the negotiation phase of the divorce process. In some instances, the court may order mediation to help bring the parties to a final resolution concerning specific issues.
Through the process of negotiation and mediation, many couples will not have to go to trial. However, the court must decide issues left unresolved. It's important to know that the final details of the divorce will be drafted in an order of dissolution. If parties are not able to resolve issues and end up going to trial, the court is responsible for drafting the final order.
At M. Qader A. Baig & Associates, LLC, we approach family law conflicts with the intent to maintain dignity and respect, by first striving to help you reach an uncontested divorce settlement. We proudly provide alternative forms of dispute resolution, and will work tirelessly on your behalf, with an eye on resolution. For your peace of mind, call us today.