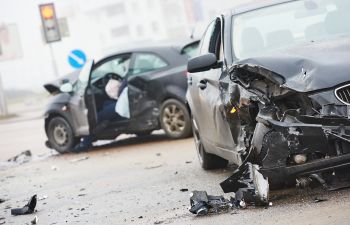 Regaining your confidence after a car accident may be a difficult journey for some. Being realistic about getting back behind the wheel is a healthy attitude, even if the prospect terrifies you. You don't have to prove to anyone but yourself that you are ready to drive again. Once you have decided to drive again, you may feel anxoius. These three tips may help you overcome your nerves about driving after an automobile accident.
Baby Steps
If possible, try to start off with short journeys on quiet roads. Getting back into heavy traffic right away may make your anxiety worse. This will give you the time to slowly build confidence if the car accident was recent. Some people find it useful to have a passenger in the car, whereas others prefer to take on the challenge alone. Figure out what works best for you before extending the length of your journey.
It's Good to Talk
Loss of confidence after a car accident is perfectly normal, so you shouldn't feel embarrassed to speak about it. It may help to discuss how you feel with a trusted friend or family member. However, you may wish to consult with a mental health specialist. Rebuilding your confidence can take time but bottling up anxiety and other negative feelings about driving increases the length of time it takes to recover.
Additional Driving Classes
Even if you didn't cause the car accident, taking additional driving classes is still a good way to build confidence. You may actually discover that you have forgotten many of the rules of the road that will help to keep you safe. There is no shame is sharpening your driving skills and classes will help you overcome the anxiety you feel when driving.
If you have been in a car accident in Georgia, reach out to the law offices of M. Qader A. Baig & Associates, LLC. You can call us at (770) 929-1665 or send a message online.