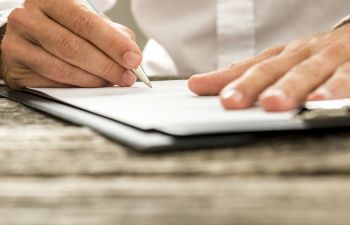 From scheduling a real estate closing to questions regarding title insurance and attorneys' fees, as well as checklists for buyers, lenders and mortgage brokers, the process of preparing for a real estate closing requires careful organization of information and documents. Thus, the state of Georgia requires the presence of a licensed attorney to ensure that the closing process is completed accurately. Moreover, while a closing attorney often represents the lender during the transaction, he or she is typically the only attorney in attendance. This means that the attorney can provide counsel on behalf of all parties at the table in an effort to complete the closing efficiently.
To begin the closing process, a mortgage broker or real estate agent contacts an attorney. Once scheduled, the individuals whose names are on a loan or the title to a property must make plans to attend the closing. Court deed records in relation to a property will be examined by the closing attorney, which includes ordering a survey if one is requested. The attorney will also aid new homebuyers in purchasing a title insurance policy, which can be obtained during the closing. As a one-time fee, title insurance is a way to protect a homebuyer's equity.
Both buyers and sellers are responsible for providing relevant information and documents prior to closing. Social security numbers must be submitted, along with homeowner's insurance policy information and copies of wills, trusts or powers of Attorney. Sellers are responsible for providing payoff information, a copy of a termite letter, and the seller authorization and information forms. While a typical closing takes approximately one hour, the efficiency of the closing is directly related to the preparedness of everyone involved. Thus, a trusted and experienced real estate closing attorney will lead and guide the process, including ordering documents in enough time to allow them to be reviewed and submitted.
Representing lenders, developers, builders, buyers and sellers in real estate closings throughout metro-Atlanta, Attorney M. Qader A. Baig provides precise and skillful services to all parties, helping them feel confident about their closing. In effect, M. Qader A. Baig & Associates, LLC maintains a reputation for professional, on time closings.
For questions regarding your potential settlement, contract or title policy, contact Attorney M. Qader A. Baig today.