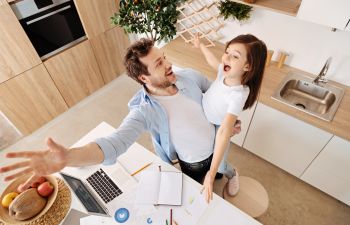 Divorce is a difficult time, and ensuring children are taken care of should be at the top of each parent's list. The stress that exists during divorce can sometimes make it difficult to keep thoughts coherent, which is why a well-drafted parenting plan can help relieve the burden of caring properly for the children.
What is a Parenting Plan?
A parenting plan is a child custody plan drafted by parents who are going through divorce. Parenting plans can help ease tension between the parties and help navigate the difficult path of custody, visitation, child support and more. It is important to include as many details in a parenting plan as possible to avoid confusion moving forward. If you are concerned about an issue, no matter how minor, it should be discussed and listed in the plan. The better the parenting plan that is drafted, the fewer problems you will encounter down the road.
What Should be Included?
Parenting plans should contain all the information necessary to make transitioning from one parent's house to the other easy for the children. Common parenting plans include:
Custody – Will there be joint custody, or will one parent retain primary custody, while the other parent has visitation?
Healthcare – This should include who will cover the cost and which parent will be responsible for doctor and dentist appointments.
Holidays and Vacations – This is an important item to list. Many arguments can be avoided if a schedule is made beforehand.
Education – This includes where the children will attend school, who is responsible for drop off and pick up and how to divide education costs.
Extracurricular Activities – This details how parents will divide costs for extracurricular sports or classes.
Taxes – This stipulates who will claim children on income tax returns.
Caregiver Information and Agreement – Include the names and full contact information of all caregivers. You may want to include a first rights clause, meaning you will have first rights to provide care if the other parent is needing childcare.
Child Support – This spells out how each parent will provide financially for the children.
Divorce is never easy, especially when children are involved. If you are facing divorce, the office of M. Qader A. Baig & Associates, LLC can help. We can provide the experience you need in coming to an agreeable solution so you can concentrate on your children. Contact us here or call us at (770) 929-1665 to schedule a consultation.