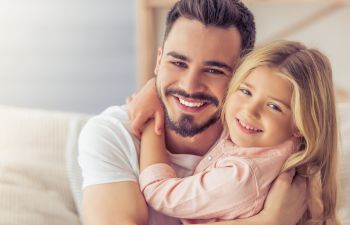 While many fathers hope to be involved in their children's lives, some continue to assume that they have limited legal rights to do so. In reality, fathers have the right to become custodial parents, to visit their children, to engage in co-parenting and to help in decisions pertaining to education, religion and healthcare. Additionally, fathers have the right to seek full or partial custody, as well as child support (if they become the custodial parent or the primary legal guardian). In cases involving Father's Rights, however, it's wise to consult an experienced paternity lawyer to successfully navigate the many complexities associated with father's rights law.
No matter what side you're on, legal issues may arise when fathers seek more involvement with their children. This is why there is a clear legal process of establishing one's rights, especially in cases where parents are not married. Considered a paternity action, the process of legitimization establishes custody and visitation when parents are unmarried. While legitimization in Georgia establishes a legal relationship between father and child, it also provides legal grounds for the child to inherit. Furthermore, this paternity action is solidified in several ways.
As the primary method for establishing paternity, both parents must state that they agree that the male is the child's legal father. Signing the Acknowledgement of Paternity form does this. While this form is typically signed at the time of a child's birth, a father's name can be added later through the state's Vital Records office. In other cases, an agent from the Division of Child Support Services (DCSS) initiates a paternity action to the court, in an effort to establish a child's paternity. DNA testing is often necessary to confirm paternity results.
The best interest of the children provides a guide for child custody cases and issues regarding paternity. In effect, judges and family court representatives look into each parent's home environment, their emotional and mental health, stability and the child's relationship with other siblings. In addition, any history of substance abuse, physical abuse and sexual abuse, as well as the criminal background of both parents will be considered.
We Seek a Fair and Favorable Outcome For Your Case
At M. Qader A. Baig & Associates, LLC, we make every effort to resolve family issues, including father's rights and paternity matters with dignity and respect. We believe that by adhering to the legal system, we can do so in a way that produces a fair and favorable outcome. To discuss your case, call the practice of M. Qader A. Baig & Associates, LLC today.