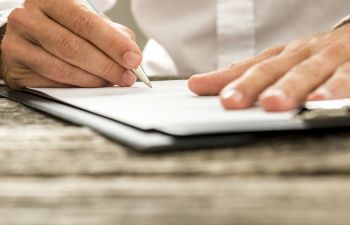 Any contract is a set of promises that is legally enforceable. Breaking the agreements set by the contract can result in one party taking legal action against the other. If you negotiate a contract without legal advice, you may open yourself to future costly legal problems.
Under Securities Law, a financial contract is a negotiated contract, agreement or option where a transaction takes place in a financial market. Commonly, these agreements are used for business and personal investments, as well as during retirement planning. Due to the risks involved with financial transactions, it is important to have legal representation. At M. Qader A. Baig & Associates LLC, we represent your best interests during negotiations and protect your rights under the law.
You Need Professional Advice for Securities Law
With Securities Law, it is not enough to think you have done everything properly. Contract wording is often very precise and may have specific legal interpretations. There may also be the need for disclosures from both sides. You may risk not gaining enough information from the other party or omitting information they could later say was important to the contract. Both scenarios leave you in a vulnerable position.
There can be steep penalties for errors and omissions, whether or not they are intentional. Negotiating financial contracts is about more than just the money. It requires intricate knowledge of the laws governing the markets, the finance and securities industries and the overall market itself. While you know your business best, M. Qader A. Baig works with you to navigate the complex financial contract laws.
M. Qader A. Baig & Associates LLC Protects Your Interests
It is difficult for someone without legal knowledge to manage the scope of a financial contract, especially when the value of the contract is determined by future events. With years of experience as a prosecutor, civil litigator and criminal defense attorney, Mr. Baig is a seasoned Georgia professional. He can craft and review financial contracts with a focus on protecting your long-term interests.
Contact M. Qader A. Baig & Associates LLC today and secure experienced legal counsel dedicated to protecting your legal rights and financial interests.